"Be Smart, Stay Safe" DVD & Music CD Kit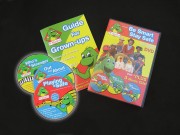 This money saving bundle includes the award-winning "Be Smart, Stay Safe" DVD, 3 educational music CDs, and the Guide for Grown-Ups on how to talk to kids about staying safe.
---
Lil' Iguana Plush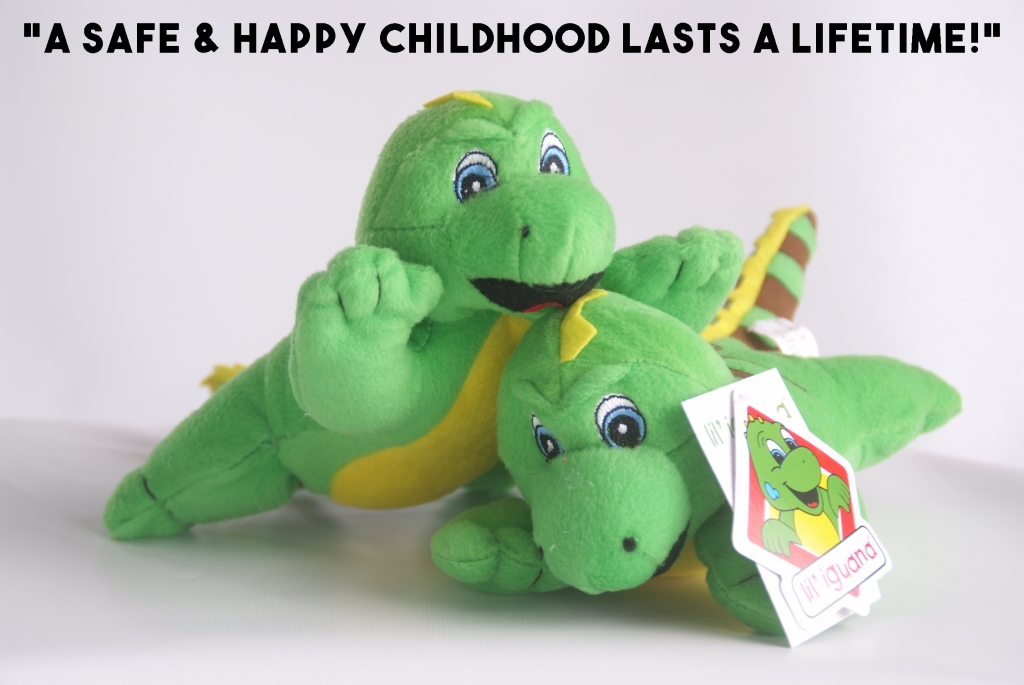 This Lil' Iguana Plush is an adorable friend and a cuddly reminder for children to stay safe, happy, and remember what Lil' Iguana would do in situations.
---
Feelings Calendar
Designed for parents, caregivers, and educators alike, this calendar encourages children to identify their feelings and communicate about them openly and honestly.  Children are able to express their emotions by choosing one of nine stamps that describe the way they are feeling that day.  Stamps include "Sad," "Happy," "Nervous," "Silly," "Afraid," and more.  This product helps to start conversations over feelings and emotions that might make children uncomfortable to start talking about themselves.  The kit contains a calendar booklet, nine rubber stamps, and an inkpad.  
---
Lil' Iguana Hand Puppet
The Lil' Iguana hand puppet is approximately 11 inches tall and made of soft felt so it is safe for young children.  It is great for telling Lil' Iguana stories.  
---
Lil' Iguana "Run, Run, Run, Yell & Tell" Wristband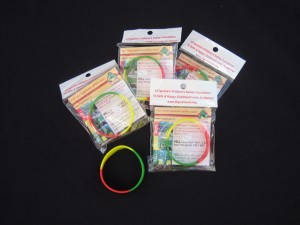 Lil' Iguana's "Run, Run, Run, Yell, & Tell" wristband acts as a continuous reminder for children on how to avoid child predators.  This tri-colored, heavy duty, silicone band has the words "Run," "Yell," and "Tell" embossed into it.  The band comes with a bi-lingual educational card for children and parents to review on what actions to take if approached by someone the child does not have permission to go with.  
---
"Run, Run, Run, Yell, & Tell" Poster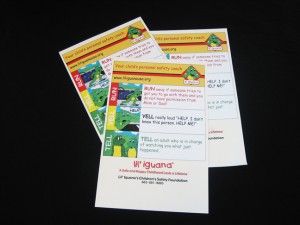 This colorful tabloid size poster reinforces the Run, Run, Run, Yell & Tell message taught during Lil' Iguana Live.  Children can follow three easy steps to keep them safe from abduction attempts.
---
Educator's Kit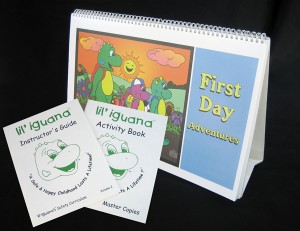 This oversized storybook and curriculum kit features 6 stories, a 56 page activity book, and 23 page instructor's guide to reinforce the safety messages taught during Lil' Iguana Live.
---
Music CD's
Lil' Iguana music CD's are great to listen to as a daily reminder to keep your children safe from harm. With upbeat tempos, and informative lyrics, the music CDs will keep your child entertained while educating them about important safety topics.
"Who's A Stranger" Music CD
This CD includes songs "Get Permission," "The Harm Alarm," "Take a Buddy with You," "Who is a Stranger," and "Run, Run, Run, Yell, and Tell." They focus on the importance of understanding your safety instincts, using the buddy system, identifying who is a stranger, and what to do if approached by a child predator.
"Out & About" Music CD
This CD includes songs "Put on Your Safety Gear," "Buckle-Up Your Seatbelt," "Stop and Then Look Out," "Train Song," and "Out and About." They focus on what to wear when riding on a bike or skateboard, the importance of wearing a seatbelt and not distracting the driver, how to cross the street, safety rules for railroad tracks and crossings, and knowing your surroundings and how to react to certain situations.
"Playing It Safe" Music CD
This CD includes songs "Good Friend," "When You're Alone," "I'm Lost," "I Want To Be Like Me," and "Talk About It." The songs emphasize the importance of knowing how to be a good friend to others, how to stay safe when you are alone, what to do if you get lost, being yourself and not giving into peer pressure, and knowing how to trust people and talk to adults.